Live Chat Software is an essential tool for any website that wants to engage its visitors in real-time conversations. Using live chat on your website is a proven technique to increase your website's conversion rate. It allows businesses to interact with customers directly through web chats, phone calls, and email.
You can use a live chat widget to provide customer support, improve your visitor's user experience, and increase your sales. If you don't use live chat software on your website, now is the time to change that. Your customers and website visitors prefer using instant live chat over sending emails to support or calling.
There are so many different live chat options available these days. It's hard to choose between them. So we decided to do some research and find the best live chat software.
Below are the 6 Best FREE Live Chat Software for your website according to our team at Web Friendly... (btw, they're actually free 😉 - some have upgrades but we only chose the Live Chat Software's with free plans that are actually usable!)
What is live chat software?
Live chat is a widget for websites that enables a chat bubble on the corner of a website. It offers visitors a chance to interact with your brand on any device at any time. Businesses use live chat for two key reasons; customer support and sales support.
What are the benefits of live chat?
Live chat can reduce the effort necessary for customer support, but it also has the power to increase your sales. When done right, live chat contributes to moving customers along the buying process.
Imagine walking into a store or car dealership and there's nobody there to help you. The same thing happens with your website when there's no chat widget. You are just hoping that they can figure out everything on their own.
Conversational marketing is a powerful new trend in digital marketing. It's all about having conversations with customers. In all sales and marketing, engagement with customers is key. And starting conversations are the key to sparking this engagement.
Examples of live chat for customer support

Canned responses
You can save time and resources by answering common questions. Canned responses provide quick answers to frequent inquiries with little human intervention.
Bots and automation
Bots and automation can play a huge role in providing support through your chat software. You can use automation to answer common questions and identify when a customer needs support from a real team member.
Ticketing support
This is a system that creates a ticket so the support team can follow up when it's convenient. You can have a reliable system to follow with inquiries.
Unified inbox
A unified inbox means that you use a single app to respond to messages on each of your different channels. This allows for much better organization and makes it less likely to miss a message from a potential client.
In-depth analytics
The way people phrase questions can often help a lot with making edits to the copy of your website. You can use the data provided from your chat history to improve your website copy or even your offer.
Examples of live chat for sales
See live visitor details
Have all the essential information at hand to know who you are talking to. You can see things like contact info, IP address, location, company, and much more.

Intelligent chat routing
Distribute incoming chats based on your preferred attributes. You can send contacts to the appropriate operators.

Promotion alerts
Give users that extra impulse to click on your chat widget. You can get an opportunity to start conversations in a chat widget.

Instant phone and video calls
Talk with your customers with a simple click of a button. You can type messages, phone or video calls, and even share files while you talk.

Reports and Analytics
Find improvements for your site and offers. You can get in-depth data about your customers and your live chat conversations.
What the data says about live chat software
According to a live chat study by Kayako that surveyed 1000+ consumers and 100+ small/medium business owners who use live chat on their website…
79% of businesses said live chat had a positive effect on sales, revenue, and customer loyalty.
38% of consumers were more likely to buy from a company if they offer live chat support.
29% of consumers told friends or colleagues about a positive live chat experience.
Customers value interaction with the brands and businesses they buy from. Whether you offer support by phone, email, or live chat – it's important to make it fast and easy to speak to a human.
What's the difference between ChatBots and live chat?
Although the chatbot industry is thriving, technology cannot replace human interaction. Chatbots that conduct clumsy conversations frustrate consumers. People want to speak to a human, not a robot.
Use chatbots to manage quick service requests such as store hours, finding a location, or FAQs. And give customers a chance to speak to a human on personalized or complex inquiries.
How to add live chat to your website
Chat widgets are easy to install on your site, add a javascript code to the head section of your website. Or use a plugin for platforms such as WordPress or Shopify.
Step 1: Research the best live chat for your business, check our free recommendations in this post. Once you know which tool you're using, create a free account to test it for yourself.

Step 2: Install the widget provided in the account and place it on the head of your website. Or use a plugin for platforms such as WordPress or Shopify.

Step 3: Customize the chat widget, give it a name that you will recognize in a line-up of customer chat widgets. Change the chat widget color, font size, and placement.

Step 4: Set up your welcome message. Set up an interactive greeting that greets customers with a message in the chatbot. Use an initial message that's catchy and appealing.

Step 5: Set up the chatbot autoresponder that will route conversations to a live agent. Configure the chat autoresponder to collect emails, phone numbers.

Step 6: Verify that the live chat widget and the autoresponder are working. Test that everything's working as intended from a user perspective.
And voila! You have added a live chat to your website.
Our top 6 picks for best free live chat software
Most free website chat services offer similar features and functionality.  We reviewed the best options that are available today.
We choose these apps based on the following conditions:
1. They are free
There are enough features that there's no need for upgrading to a paid plan.
2. They are simple to use
The setup is quick and managing conversations with website visitors is easy.
3. Paid plans are affordable and feature-rich
Tools are affordable if you need to scale. Changing software is never fun. We want to avoid that whenever possible.
The list below is in no particular order or ranking. Each tool offers various features, upgrades, and pricing. You will need to view each tool with your own needs in mind and make the decision on your own.

⭐: 4 / 5
Birdseed offers 12 tools to help you interact with your customer at every stage of the sales cycle. It's a complete engagement tool that you can start using for free.
The free version is enough for low-traffic websites (~33 visitors per day). If you need unlimited visitors or branding removed BirdSeed offers two paid plans.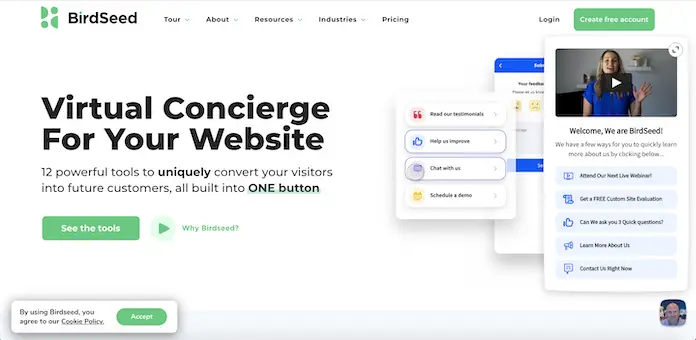 Features of the Birdseed free plan:
1,000 unique visitors per month.
30 days of analytics history.
Mobile and desktop app.
What's missing with Birdseed:
Doesn't integrate directly with your social media inboxes
Doesn't offer a support ticket system
Free versions require Birdseed branding
Tool #2: Tawk
⭐: 4.5 / 5
Tawk is completely free, their business model is different from other live chat tools. You only pay if you want chat agents helping you or if you want the Tawk logo removed.
Tawk offers many of the premium features that other software charges for, at a $0 price tag.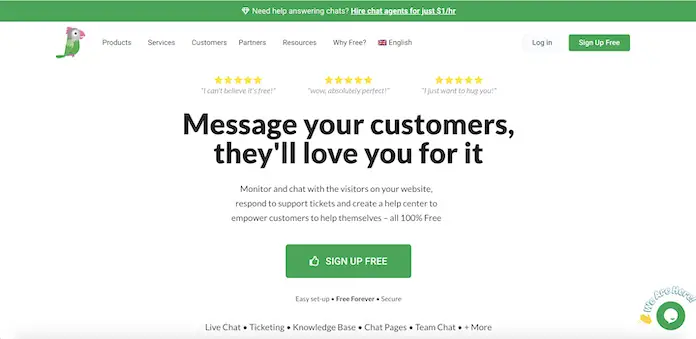 Features of the Tawk free plan:
Unlimited monthly visitors
Unlimited history
Unlimited agents
Geo API tracking
Visitor information
Support ticketing system
Mobile apps for Apple and Android
And a lot more …
What's missing with Tawk:
Doesn't integrate directly with social media inboxes.
You need to pay to have Tawk's branding removed
⭐: 4 / 5
Freshdesk has a plan named 'Sprout' which is forever free. It comes with all the features that help you offer a great customer experience on your website.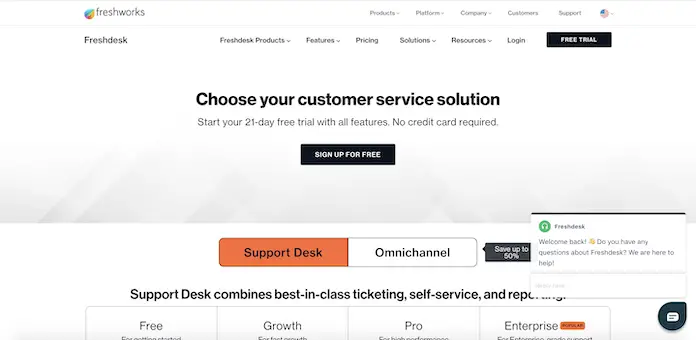 Features of the Sprout plan:
10,000 unique monthly visitors
Streamline communication
Support ticket system
Convert social media inquiries into support tickets
Automate routine tasks
Unlimited agents
Team performance insights
Mobile apps for Apple and Android
What's missing with Freshdesk:
Doesn't track data.
You need to pay to remove branding
⭐: 4 / 5
Smartsupp integrates live chat, email, and Messenger into one customer messaging platform. It also helps you see what visitors do on your website and integrates well with Shopify or other tools.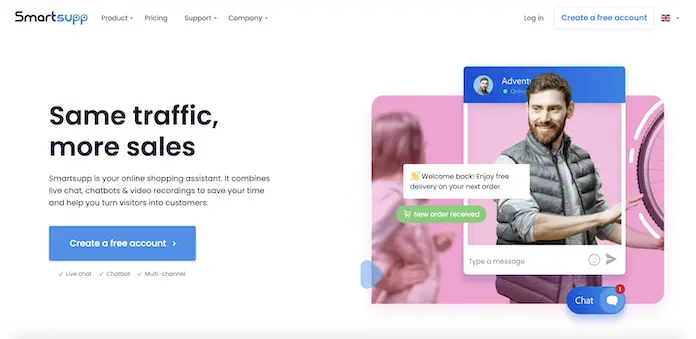 Features of the free plan:
Unlimited monthly visitors
History tracking (14 Days)
Ticketing support
Unified inbox
Mobile apps for Apple and Android
Things Missing on Smartsupp:
Doesn't track data.
Can't remove the SmartSupp logo.
Tool #5: Rake
⭐: 4 / 5
Rake gives you all messaging features you need to chat with your customers. Two-way Omnichannel Chat, Channel & Direct Messaging, Integrated Tasks, and Knowledge Base are all free.
The size of your team is the only determining factor of the price you pay for Rake. For small teams of up to 4 users, Rake is free forever.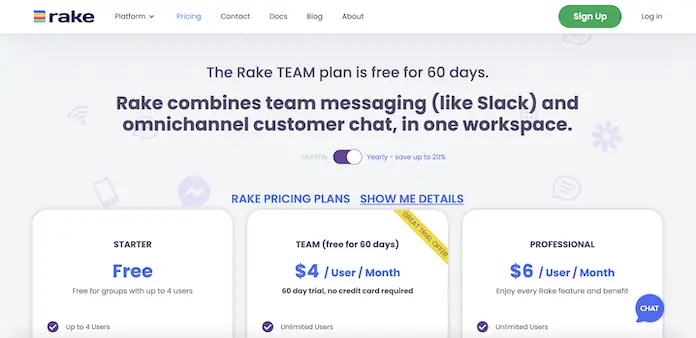 Features of the free plan:
Unlimited monthly visitors
Up to 4 users
50 SMS Messages/month
Unlimited search history
Mobile apps for Apple and Android
Access to quick messages (canned responses)
You can use your custom branding
What's missing with Rake:
No unified inbox.
No ticketing support
⭐: 3.5 / 5
Elfsights free version is great software, however, there are limits to what you can do with it. The reason why people like it is it integrates with most major texting apps like Whatsapp and Messenger. It is a simple solution for visitors to chat with you.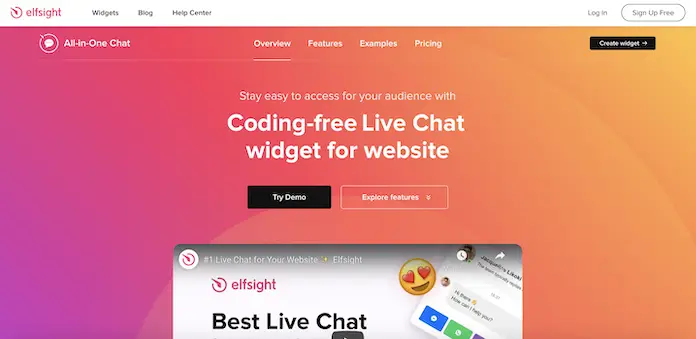 Features of the free plan:
200 Monthly Visitors
Redirects the conversation to popular apps
Things Missing on Elfsights:
History tracking
Unified inbox
Ticketing support
Mobile app
Must have the $5/mo plan to remove branding
Conclusion

Live chat apps have become a go-to method for engaging website visitors and answering questions they might have. This "must-have" tool it's free and easy to set up. It helps support and sales teams engage with customers.
We reviewed 6 examples of free live chat apps you can add to your website today. Select the live chat that best suits your needs, and start having more conversations with your customers.
For more information, check out the following guides:
Search engine ninja that specializes in website performance optimization. Josiah is a freelancer helping businesses in a variety of industries.
follow me :