It's time to review some great visual storytelling examples to give you a competitive edge in your digital marketing. Today's attention span for social media content may be the size of a mosquito, but we all still love great visuals.

We'll always stop scrolling to check out a compelling visual post. That's why if you want to kick your digital marketing into high gear, you've got to use visual storytelling.

Captivating elements like photos and videos can enhance your brand's story and connect with your target audience in ways you never thought possible. So, let's dive right in and explore these visual storytelling examples.
Why is Visual Storytelling Important?
Whether it's a stunning photograph, an entertaining video, or an eye-catching infographic, visuals have the power to convey your message quickly and effectively.
Hubspot has curated some impressive statistics on the power of visuals if you want to really nerd out, but the main takeaway you need to know is that people only retain about 10% of the information they read or hear, but with visuals, they retain 65%. That's a huge difference!
What this means for you is that you've got to have more photos and videos in your digital marketing funnel, or else you're falling behind.
So take a look at these visual storytelling examples find a place to add more to your own marketing, and watch your engagement rate increase.
How to Use Video for Visual Storytelling:
Videos offer an immersive platform to share your brand's story, values, and mission. Through compelling narratives, you can engage viewers emotionally and build a meaningful connection with your audience.
Video testimonials and case studies provide an opportunity for your happy customers to share their authentic experiences with your audience. By showcasing real people and their stories, you create social proof and establish credibility, making it easier for potential customers to relate to and trust your brand.
Here's an example of a video with strong visual storytelling, to give you some inspiration.

How to Use Photography for Visual Storytelling:
Powerful photography captures authentic moments that resonate with your audience. Through carefully composed images, you can evoke emotions, inspire curiosity, and effectively communicate your brand's essence.

National Geographic's iconic photographs are a testament to the emotional impact that photography can have, transporting viewers to different corners of the world and igniting a sense of wonder.

If you want your business to leverage the same impact, start infusing more photos into your marketing.
You can either hire a photographer to take pictures for you, or you can look at different stock photo sites and see what free user-generated content you can find to match your brand.
Try to use photos that are cinematic looking, and have bright colors and sharp detail. Photos of people are always relatable. So if you're stuck on what to show, consider showing people related to your industry.
This is a good example because the lady is having fun on set, and the photo comes across as authentic, and atypical. Try to look for photos that stand out from the regular, like this one.


How to Use Infographics for Visual Storytelling:
Infographics provide an engaging and visually appealing way to present complex data and statistics. By combining concise information with well-designed visuals, you can transform dull figures into captivating narratives.

Create informative and visually-driven guides that simplify complex processes or provide valuable insights. By breaking down information into bite-sized chunks and pairing it with relevant visuals, you can guide your audience through intricate concepts, increasing their understanding and engagement. HubSpot's "How to Create an Infographic" guide is an excellent example of how to use infographics to educate and empower your audience.

How to Use GIFs for Visual Storytelling:
GIFs are short animated images that inject humor, playfulness, and relatability into your visual storytelling efforts.

They capture attention quickly and are highly shareable, making them ideal for social media platforms. Many large brands that have an active social media presence use GIFs to deliver humorous and engaging content that resonates with their target audience.
GIFs can also be used to demonstrate product features or showcase quick how-to guides.
By condensing actions into short, looping animations, you can provide visual instructions or highlight the key benefits of your offerings in a concise and engaging manner.
Want to use GIFs for your socials? You can find fun and compelling GIFs on this page, and others like it.

via GIPHY
Conclusion:
Visual storytelling has become an indispensable tool for marketers looking to cut through the noise and engage their audience effectively. By harnessing the power of videos, photography, infographics, GIFs, and memes, you can create immersive brand experiences, establish emotional connections, and leave a lasting impression on your target audience.

Hopefully, the visual storytelling examples listed above will give you a good sense of where to start. Remember to align your visual storytelling efforts with your brand's identity and values, allowing you to connect authentically with your audience and stand out in today's crowded digital landscape.

Embrace the art of visual storytelling and watch as your marketing efforts come to life with captivating narratives that resonate with your audience.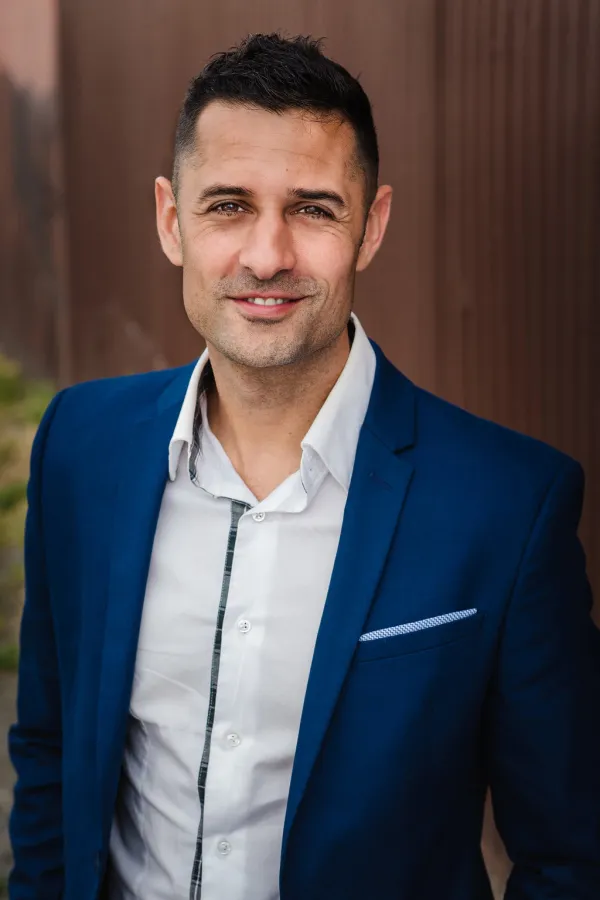 Anthony is the CEO of UpMedia Video. During his 18 year career, his work has been featured on platforms like Netflix and HBO, and includes work for large corporations across North America.