If you want to rank YouTube videos fast in 2023, you need to optimize your videos and channel for Google search and YouTube's recommendation system. Here are 7 simple hacks to help you rank your YouTube videos fast.
In this post, we will go over some practical tips and strategies for content creators, small business owner, or anyone looking to share their ideas, thoughts and insights with the world. This guide will help you get your YouTube videos discovered by your audience.
Before we get into the hacks, let's discuss…
How To Plan Your YouTube Video Creation Strategy
There are 3 ways to plan videos… It's best to use a combination of all 3 but let's be honest, if you don't want to become a full-time YouTuber you can stick to the first one (keywords) only.
1. Keywords
Targeting keywords will help you rank on Google and YouTube so your videos can be discovered by search. One mistake I see a lot of creators making is ranking for a keyword with very little traffic… I recommend choosing keywords with estimated searches of at least 1000 per month. I usually tend to go for 10,000 to 50,000 searches per month.
You can use YouTube-specific keyword research tools such as vidIQ which will give you most of this data for free. A more advanced tool for YouTube keyword research is Ahrefs or SEMrush however these tools are quite pricy if all you're using it for is your YouTube research.
Bonus Tip: It's a good idea to keep your entire channel around a specific group of topics/keywords and create several pieces of content per topic. I recommend no more than 8 to 10 topics s per channel. Create a Playlist for each of your topics/keywords and add the appropriate videos into the playlists.
2. Similar Content
You can show up on "Recommended" in YouTube next to specific videos by creating videos on the same topic, around the same length, verbally saying specific keywords in the video (which the similar video also used), and using the same/similar tags (more on this below). You can do this by searching for popular videos from a similar creator in your niche and creating a similar video on the topic in your own style.
In case you're wondering… There is nothing wrong with doing this, it's common practice. You won't offend the other creator as long as you aren't blatantly copying their video.
It's important to note the goal of YouTube's recommendation system is to keep people on the platform by recommending videos they are likely to watch and enjoy. If your video is boring and doesn't hold viewers attention then it likely won't get recommended for very long.  
3. Trends
You can find data on what's trending around a specific topic using a free tool by Google called Google Trends. For example, I typed in "how to YouTube" and found "how to make a face mask" and "how to make hand sanitizer" are currently breakout trends worldwide (you can probably guess I'm writing this post-covid). So if you made a video about this today you'll probably get lots of views for it (as long as you continue to follow the rest of the advice in this post).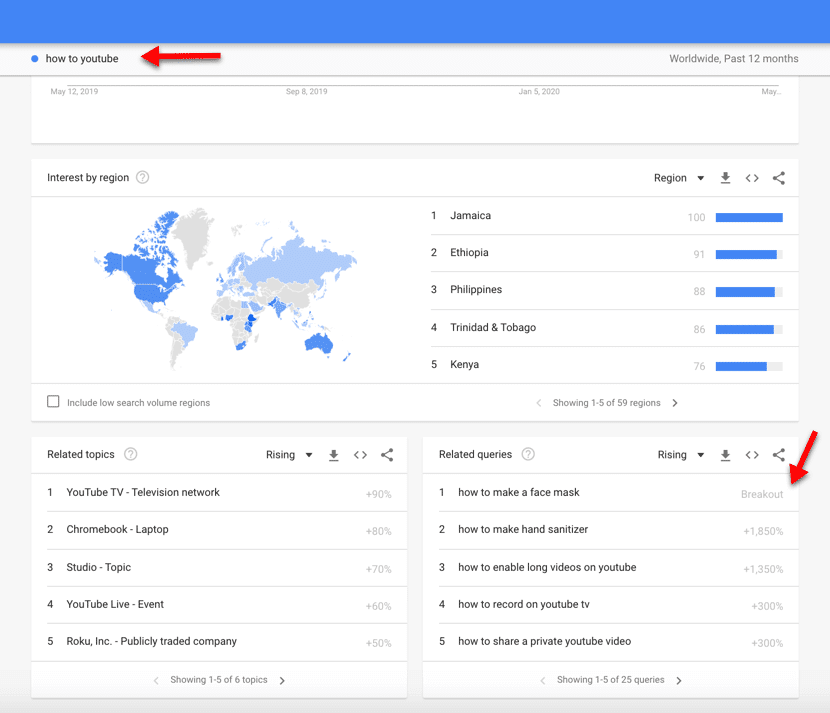 Combine "Trends" with creating "Similar Content" and you are almost guaranteed to rank for your keyword on YouTube and probably Google too. If the video is good and people watch the whole thing your view time will rise and you will get lots more subscribers.
How to rank your YouTube videos on Google
Imagine: you're enjoying your morning coffee, checking notifications on your phone that popped up overnight. You casually check your YouTube analytics and, BOOM, your latest video had 1000 views last week!
Hell. Yeah.
No wonder you saw that spike in leads…
Results like these are no accident. YouTube has the second-highest volume of search traffic, right behind Google. Factor in that Google search integrates YouTube results in their search, and you get the picture.
Now let's get into the technical aspects of ranking your YouTube videos fast!
1. How To Title Your YouTube Videos
Video titles on YouTube can be up to 100 characters. However, Google cuts off the title after 70 characters.
Put the most important information at the start of your title, including the keyword.
Keywords are the most important key to rank YouTube videos. To pick your keywords, consider what question you're answering with your video. These keywords are what people will be typing into their Google or YouTube search.
State a clear and specific benefit. Tell the viewer right in the title why they should watch your video. How is it going to change their life?
When you're brainstorming possible titles, search them on Google and compare your ranking competition. Try a few different ways of asking the questions to figure out which will have the best chances to rank YouTube videos. Look at the search results and go from there.
If one variation has a few really strong videos already, it's not your best option. Try something different.
Keep in mind that Google tends to display YouTube videos results for the following types of keywords:
"How To"
"Review"
"Tutorial"
"[Year in title]" (eg, How to Rank Videos Fast in 2020)
If it is appropriate (considering your content) to include these keywords in the title, then you are sure to snag some Google search volume.
2. YouTube Tags
Keywords make you rank on Google, but tags help rank YouTube videos within YouTube.
To figure out which tag to use, get on vidIQ and type in your keyword idea. Then, select all the tags related to your keyword (these are often more than one word). Do not overdo it! You can add up to 500 characters of tags, I recommend keeping it under 400. You do not want to confuse the YouTube algorithm. Stay focused on tags related to the keyword/phrase you are trying to rank for. Do not try to rank for more than one.
You can use free YouTube tools to view tags on other YouTubers videos. Just create a vidIQ account, download the browser plugin, then navigate back to YouTube and sign into vidIQ (you'll see the plugin on the right side of YouTube.
You can view the tags for free you don't need a paid account. This plays into the strategy of creating "Similar Content" described earlier.
3: YouTube Video Description
In each video, you have the opportunity to include a description.
If you want to rank YouTube videos fast, make sure to follow these guidelines for the video description:
Your description should be at least 250 words long
Include your keywords within the first 25 words (eg, in the first sentence)
Repeat your keyword ("naturally") about 3-4 times
As a bonus tip, I recommend you always add the following details:
A Synopsis of you or your company – Don't rely on people to click back to your profile. Tell them what you're about right in the video description.
A call to action – What is the purpose of your video? Do you want them to buy a product, subscribe to your channel, check out your website? Tell them what to do!
Resources – So they liked the video and want more info, don't make them go back to Google. Give them resources that will answer their follow-up questions. Ideally, provide another video or a link to your website for more information.
Social media profile links – Congratulations, your videos made them like you. Now tell them where else they can get more of you. Chances are if they're on YouTube, they're probably on another Social channel like Facebook or Twitter.
Hashtag – Yes, hashtags are a thing on YouTube now. If you add a Hashtag in your description it will show up as a blue clickable link above your title.
It's important to complete the description for each video with as many details as possible if you're shooting for the keyword strategy.
4: YouTube Thumbnail
YouTube will automatically assign a thumbnail to your video. It may or may not be flattering or a good representation of your brand.
Take control back and create the perfect thumbnail for your video, complete with overlay text that describes and entices. This will not directly help you rank YouTube videos fast, but it will increase the chances of people clicking on your video among the search results. If your video ranks but nobody is clicking on it then you won't hold the ranking position for long.
Tips for creating a YouTube thumbnail:
Big text stating the benefit of watching the video
Your face or someone's face showing a lot of emotion (happy, sad, shocked)
Bring outline around the thumbnail or outline a picture inside the thumbnail
For the most part, I recommend you simply search your keyword on YouTube and view the thumbnails for the videos currently ranking, and make a better, brighter thumbnail! Invoke curiosity for the win.
5: YouTube Caption File
For a long time I would recommend, if you want to rank YouTube videos, you need a caption file. But I don't think this is true anymore.
If you're not familiar, a caption file correlates written text of what you say with a timestamp. It helps people who are hard-of-hearing, deaf, or speak another language. You can use YouTube's Captions Editor in YouTube Studio to edit the caption files after they are automatically generated by YouTube's AI.
I have tested ranking videos without a caption file and they still rank. The reason I think this isn't as important anymore is that text to speech technology is so good now that YouTube and Google know what your video is about even without the transcript. This is just my theory however if you want to play it safe make a caption file.
SEOs still say you should customize your caption file. I'd focus on ensuring the YouTube AI got the main keywords correct, sometimes it doesn't understand brand names for example.
6. Boost YouTube Views
It is definitely a controversial strategy to "fake it till you make it" however, in many cases it can work to rank your videos on Google. There are several popular services YouTubers use to buy views for YouTube videos.
Buying views for your video can help establish credibility and authority in your niche, as having a large number of views can make you appear more trustworthy and influential.
PRO: Videos with large number of views can increase your video's credibility and make it more appealing in the search results. When people see that your video has a large number of views, they're more likely to click on it and watch it themselves.
CON: Boosted views with low watch time can hurt your videos engagement rate. It's important your video is actually engaging and users watch more than 50% of the video. This will signal to YouTube's algorithm that your video is popular and relevant, which can help it get recommended to more users.
It's important to note that buying views alone won't rank your YouTube views. You still need to create quality content that people will naturally watch, like, comment and share. Google is smart and with low video engagement rates the ranking will not last long.
7: YouTube Backlinks
When other websites or social profiles link to your video (backlinks), it shows Google that your video is relevant and high-value. Google will rank YouTube videos with more backlinks higher.
To get more backlinks, share them on social platforms and comment on relevant blogs with the link to help answer people's questions.
Not all links are good, though. If a sketchy tabloid site links to you, then you're related to an untrustworthy source. Too many of these bad links hurt your efforts to rank YouTube videos.
You could use your video as an "answer" to questions on Quora, Reddit, and beyond. And you could create a blog post by embedding the video on your blog and writing about it (or even better, post that transcript as a blog post).
Bonus Tip: You want to get as much traffic and engagement on your videos as soon they're published. If you have an email list or large following elsewhere it's a good idea to promote the video to them as soon as you publish it.
In Conclusion
Ranking YouTube videos on Google is a powerful way to get more exposure for your brand or business. Build your repository of great videos get them be found on Google and YouTube with these hacks:
Keywords: Target keywords with 10,000 to 50,000 searches per month.
Similar videos: Create similar videos to what's already ranking for your target keyword. Use similar tags, same length, and verbally say the keywords in the video.
Trends: Combine the power of Google Trends with "Similar Content" for a powerful winning formula.
Titles: Use "How To", "Review" and "Tutorial" in your title. These keywords tend to rank in Google search results.
Tags: Take advantage of free tools for YouTube to view tags used on other videos.
Descriptions: Write a YouTube description with at least 250 words and include your keyword in the first sentence.
Thumbnails: Make a custom thumbnail for your video that includes text and a facial expression matching the feeling of your videos title.
Caption files: Edit the automatically generated YouTube caption file if your keywords are not spelt correctly
Boost views: Buy a little bit views for your video to establish credibility in the search results.
Backlinks: Share a link to your videos on social media, forums and your website to get indexed faster.
We have a YouTube channel at Web Friendly that covers news, trends and insights that matter to marketers. You can subscribe here to support our show 👊
We also started a YouTube channel for another project called Internet Masterminds – I have been using the keyword strategy to rank videos on Google if you'd like to see how it works.
For more information, check out the following guides:
A digital marketing enthusiast who is passionate about publishing, startups and the creator economy. Matt is the CEO of Web Friendly and helps write, recruit and improve content across the website.
follow me :