When you are thinking about how to find profitable products to sell on Amazon, it might be easy to identify a product that sells well, but profitability is a bit of a different matter. People spend millions upon millions on Amazon every day. For them, it's easy to find a product that they're happy to spend their money on.
However, for sellers, it can be a challenge to find something that will sell consistently and yield a great enough margin to justify the investment. We will go through several steps that sellers need to follow in order to choose a product that will bring them profits, and filter out anything that doesn't meet their standards along the way.
The steps include:
Finding product ideas.
Filtering the options using specific criteria.
Learning how to check your criteria without using paid tools.
Learning how to check your criteria using paid tools.
Finding product ideas
Not every product you see on Amazon sells as well as others. It might be getting some sales. However, the products that actually sell at enough volume with enough margins that make their sellers happy and leave them with plenty of profits also need to be part of niches that have a decent level of demand that isn't being adequately met.
Amazon Categories - The best place to start is Amazon itself, where you can view the bestsellers in any category and try to figure out what makes each product successful, and determine whether or not you can replicate that success, or even do it better yourself. Those products also indicate high demand for them. It really depends on your business model - if you are reselling, you definitely want the most highly reviewed products. If you are doing private label, you want to look for products with a modest number of reviews, and those that have listings that are not too old. This indicates that those products have experienced growth. There are also a lot of fun categories (like The Launchpad and Movers & Shakers) which can help you identify some new consumer trends.

Google Trends - When it comes to looking for trends, there is no better place to go than Google. It's free and it can help you see if there is any new interest that is growing over time. Simply go to Google trends and search for any trend to see if it's rising in popularity.This could be a certain type of product, or a lifestyle trend that you can then search for on Amazon to see if there are products that fit those trends.

Pinterest - Pinterest is a great place to look for trends as well as actual products. It's easy to get lost there as you browse various searches and tags. There are many people who make decent money from selling things on Pinterest and not necessarily on Amazon. You can find pins that are related to certain products or trends, making it easy to browse. Pinterest is definitely a great place to get inspiration.

Social Media - Social media is generally the first place we notice a trend. You can find literally anything there. You may follow pages of specific brands or products you see growing in popularity, and learn from the comments to help you gain insight into what makes them attractive. In fact, this is a great way to help you find out how you can make something similar and improve upon it. A good habit to develop as an Amazon seller is to always think in terms of "What is being sold" and "How is it doing so well" as you browse social media.

Analytical Tools - Many sellers rely on various tools to help make their operations and decision-making a lot more efficient and easier. Generating product ideas is one of the most important aspects of running an Amazon business. There are many analytic tools for Amazon, the one I use is AMZScout (screenshot below).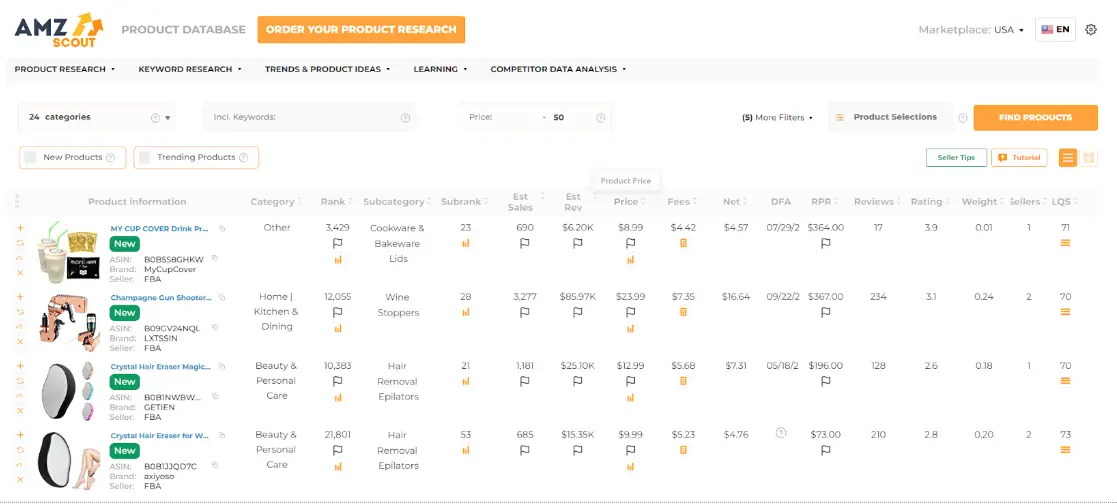 These type of Amazon analytic tools allow you to enter various criteria and view a list of products that meet those criteria, along with some additional information such as the estimated sales revenue, margins, and more.
Filter your ideas using criteria
Depending on what you wish to do, you should have some criteria in place when you are looking for products to sell. There are different criteria for different business models. For example, if you are reselling or dropshipping, you should be looking for products that generate a lot of sales and result in the greatest difference between the selling price and the price you paid for it.

When it comes to more involved business models, such as private labels, there is a set of criteria that you should stick to, especially if you are a beginner:
Don't sell anything that's too bulky or heavy - The cost of shipping, as well as the FBA storage and FBA fulfillment fees, are calculated based on the weight and the dimensions of a single unit of your product. If you wish to have a healthy margin, it's best to avoid products that weigh a lot or take up too much space. A good rule is to sell nothing heavier than five pounds.
Don't sell complicated products - Products we would consider "complicated" are those with a lot of moving pieces (like electrical, mechanical, or generally delicate items). You don't want to risk a malfunction due to transport or the customer mishandling it and getting a guaranteed refund. Also when it comes to more complex products, they usually come with some extra quality control costs.
Sell things in the price range of $20-70 - When it comes to selling price, we want to be in the "Goldilocks zone" - not too cheap and not too expensive. A good rule of thumb is to consider that ⅓ of your cost will be manufacturing and shipping, ⅓ goes to Amazon, and ⅓ is your profit. If you sell something below $20, even if you get a decent margin in the percentage, you will have a little left over. This happens, for example, if you calculate the Cost per Click to get a customer or any other additional expense. On the other hand, the $70 mark is not exactly the top selling price - it just makes it really difficult to find a product that meets the other criteria above this price.
High sales/high demand + insufficient/inadequate supply - This is the most difficult criterion to meet, since these things are not obvious. Just because someone is selling a lot of something doesn't mean you will also. In fact, you will be competing against that seller. Spotting an opportunity is not easy, but it's not too difficult. A good way to spot a favorable niche is one that has relatively recently added listings and a decent number of reviews acquired in a short period of time. It's also smart to look at its BSR or bestselling rank, which is purely based on relative sales. Another great opportunity is if you can find a product that can compete with existing ones while being in some way superior.
How to check your criteria without using paid tools
There are several ways to do this, one of which is to simply run a search and take a look at the results. The first page of results will always contain the listings that are certain to get organic sales. The next thing you should do is pick one listing and scroll down until you find the product details:

In this particular example, we have a mortar and pestle set that has been around for a little over three years. There is a very imprecise rule you can use to determine sales: you assume that every 20th to 40th customer leaves a review. We can say that this product has had around 30,000 to 60,000 units sold in this period, which would leave its monthly sales around 800 to 1600 units. This is a very rough estimate. You can also use a free calculator to calculate the fees for a single unit of this product to help you get an idea of its profits.
You can also use paid tools by not paying for them - almost all Amazon research tool developers offer some kind of a free trial. You could use one of these tools for a limited time or a limited number of runs.
How to check your criteria without using paid tools
It's pretty easy - you simply go to an Amazon page and press a button. Tools such as the AMZScout extension that gives you all of the information without having to dig around and do guesswork.
This way, you just get everything you'll ever need and a lot more than you could gather by yourself - things like niche scores, sales history, trends… Tools like these have a lot of features.
In conclusion
Amazon has almost become synonymous with shopping, especially during the pandemic. There are millions upon millions of products that are being sold, and you can certainly find one or even a few that will bring you profits and grow your eCommerce business. If you want to get into the fine details you can find more information here.
The main takeaway is that you should start to think like an Amazon seller and look at everything you interact with online as a potential clue that helps you discover trends and consumer behavior patterns. In summary:
Amazon is always a great place to look, and should be the first place you look. However, so are Google, social media, and other eCommerce platforms.
Don't forget to use criteria and filter out the types of products you would be comfortable selling based on your experience level.
Try to get all the information you can, using the data Amazon gives you, whether you use product page details or data you get from using specific tools.
Before you know it, you will be getting orders and climbing up the organic search ranks. Good luck sellers!
Frequently asked questions

What is Amazon's most profitable product?
You cannot possibly know that unless you know the accounting of all Amazon products. A good guess would be something sold by Amazon itself, like Alexa.
What products are best to sell on Amazon?
Products that give customers the most value.

Is it still worth it to sell on Amazon?
Of course, people will always buy things. Amazon is the primary platform where people buy things.
How do I attract customers to Amazon?
You don't, Amazon attracts them for you. Most searches for any product are done in the Amazon search bar, not the Google search bar.
Is Amazon FBA worth it in 2023?
Of course, no matter what happens with the economy, there is no scenario where Amazon is not relevant.
For more information check out the following guides:
Antonio is a growth hacker and founder of Wild Bird Media. He's passionate about sharing his knowledge on SEO, Sales Funnels, Email Marketing, and much more.
follow me :