A free ebook is the most versatile type of Lead Magnet out there. This offer has historically worked well to capture leads across industries. When implementing paid advertising campaigns, a free ebook can be a great way to attract highly-qualified leads. There are a few key things to keep in mind when using an ebook to attract new customers, and this post will outline them for you.
Your Ebook Content
Your free ebook should be easily digestible, with limited text on each page, about 200 words per page. Make it easy to read (no more than 10 minutes) and easy to print, with minimal colored components. It should provide a clear and specific benefit, which is communicated explicitly in the title of the book, and a strong call to action in the conclusion.
The ebook should also be full of valuable content. People hate giving their email away and spending their time reading a low-effort collection of vague fluff. If that happens, there is a 0% chance that they will take you up on the offer. Meanwhile, you have spent money on advertising to them, then retargeting them and running fancy Active Campaign automation to try and close the sale that will never happen.
So, make sure that the content of the ebook is super valuable and preferably actionable. Case studies, reports, top 10 lists, and longer blog posts are all top-notch content to transform into an ebook. If you don't have ready-made content, invest in a writer – it will make you money in the long run!
The Two-Step Ebook Funnel
A simple Ebook Funnel contains two steps, an Ebook Download Page with an offer to download the ebook for free, followed by a Thank You Page with a video presenting an offer to upgrade to a paid offer. The aim is to get a certain percentage (typically 5% to 10% depending on the offer) of people who download the free ebook to take you up on your paid offer.
The First Step
On the Ebook Download Page, you want to aim for a 30% conversion rate. That means 30% of visitors to the page enter their email address to get your book. Keep it simple, you want the headline to do the talking. No long videos or long-form copy. An Ebook Download Page should be designed around a quick impulse decision for your prospects. To optimize for conversion, use strong visuals and limited, compelling headlines that are specific and tangible.
For example, you can create a "value-stack" headline. This is what it can look like: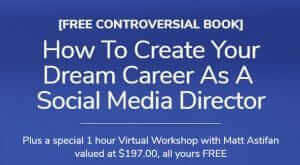 This setup lets the reader know that the book is free and somehow important, that the reader will learn something valuable, and that she/he will also get a bonus that has a dollar value attached to it! In addition to that, the title qualifies the leads: if a person is not interested in a career in social media, they will not download the book and nobody's time is wasted.
The Second Step
Once you've got their commitment (eg, email address) the next step is to start building the relationship – there's no recommended "limit" to the amount of information you may want to present on the Thank You Page. Just make sure it's engaging.
We often use a 3-5 min video with a call to action to "apply" to join a program or schedule a call. However, we've also experimented with using the Thank You Page to offer a second free offer to attend a Virtual Workshop. This is a webinar that is pre-recorded and automated to start at set intervals. The presentation is about an hour in length and presents a paid offer at the end.
Conclusion
Two-Step Ebook Funnels are simple to set up and get working for you with almost any product. If you're just getting started with sales funnels, or if you're already experienced in social media marketing, make sure to add the Two-Step Funnel to your arsenal of sales tools.
For more information, check out the following guides:
A digital marketing enthusiast who is passionate about publishing, startups and the creator economy. Matt is the CEO of Web Friendly and helps write, recruit and improve content across the website.
follow me :