Would you like to find new ways to boost your conversions at every stage of your sales funnel? Understanding the 5 primary sales funnel stages is essential to any digital marketing strategy to get leads and sales.
In this article, we'll help you understand sales funnels, review each of the different stages of a sales funnel, and how they can be used in your business. And at the end, we'll share a few ways you can increase your conversion rate in every stage of your sales funnel.
Intrigued? Let's get right into it
What's a Sales Funnel?
A sales funnel is a visual representation of the process your potential customer goes through when making a buying decision online.
When we look at the shape of the graphic representation of a sales funnel, the first thing we notice is that it's wide at the top and narrow at the bottom.
That's because most of the potential customers that enter your funnel at the top (by becoming aware of your brand's existence), just a few will reach the bottom (by actually making a purchase).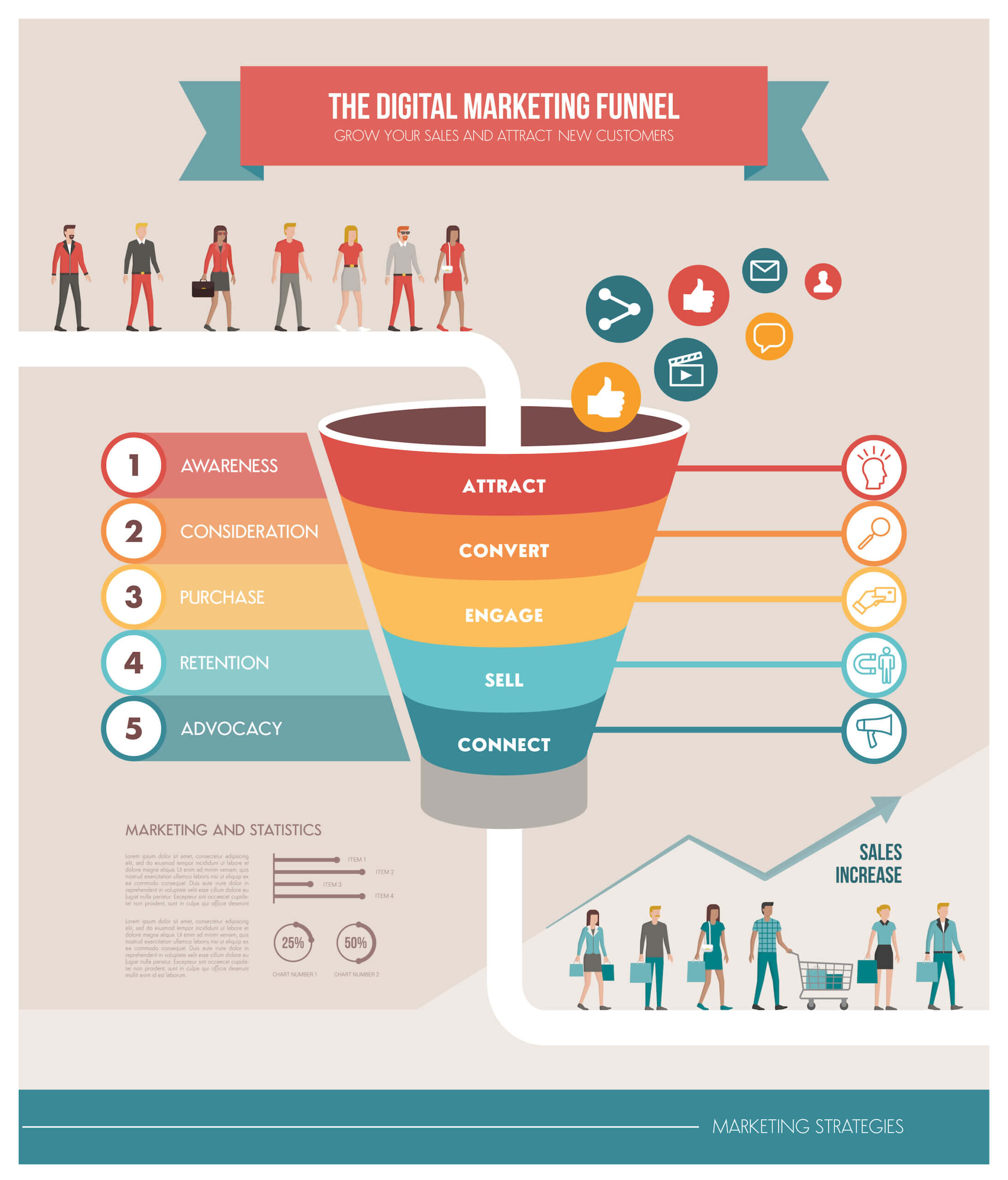 We can also notice the sales funnel contains multiple stages, they're easier to identify by looking at an actual sales funnel chart.
Each of the stages will have its own conversion goal that's placed as your potential customer moves through each of the stages of the sales funnel.
Attract potential customers unfamiliar with your business.
Convert those who know your brand.
Engage those ready to make a purchase.
Sell customers ready to buy.
Connect with customers that purchased from you before.
It's common to see companies online immediately trying to sell to potential customers. Instead, you should take your potential customers through your sales funnel by using a series of small conversions. This approach will eventually result in a sale.
Let's review each of the stages of a sales funnel to understand which marketing methods are used to improve conversions and move your potential customers from one stage to the next.
Step 1. Increase Conversions in the Attraction Stage
The goal here is to attract new customers.
It's really hard for potential customers to purchase something from you if they don't trust you or your brand.
Before looking to close a sale, you must get your name out there and establish your business as an industry leader.
The most popular tactics for bringing new prospects and establishing authority through your sales funnel are:
Blogging
Publishing articles on your blog will make it easier for your site to be found by search engines. This way, when your prospects search for solutions, they can land on your website instead of your competitor's websites.
Get creative with your content, write anything related to your product or industry, and don't hesitate to include remotely related topics, but never deviate so far you can't link back to your product.
Social Networking and Publishing
Engage with your potential customers on the networks that are the most relevant for your business. Potential customers rely on social networks for advice, referrals, and reviews, they assume your business is available for questions on Facebook, Instagram, and TikTok, and search for tutorials and how-tos on Pinterest and YouTube. They also look for a behind-the-scenes sight of your business on Instagram.
Social proof creates trust and encourages conversions and social media can also influence your search engine rankings.
Pay Per Click Campaigns (PPC)
PPC campaigns enable you to pay Google to show ads to your potential customers and send traffic to landing pages where you capture their email addresses.
Page-level targeting can boost the effectiveness of your PPC campaigns, quickly improving conversions by asking the visitors who land on your site via PPC to share their email addresses.
With PPC campaigns you only pay when someone clicks on your ad or by the number of impressions your ad gets.
Step 2. Increase Conversions in the Conversion Stage
Your goal here is to collect email addresses.
The most common approach to get new leads is to offer a lead magnet that gives valuable information in exchange for their email address. A lead magnet is a worthy reward given to potential customers in exchange for their contact information.
Tiny commitments like this lead to more substantial ones, like finally purchasing your product.
To convert your audience in leads, use the following methods:
Landing Pages
Build a powerful landing page and you'll notice higher conversion rates, their entire goal is to capture your consumer's contact information or produce a sale.
A landing page and a compelling call to action are more relevant to the visitor's needs and want than your regular homepage. A landing page should offer information that addresses one specific issue and should only have one call to action. But using separate landing pages and CTAs will allow you to convert more people.
Calls to Action
Determine the specific action you want your potential customer to take and add the appropriate call to action multiple times on your pages. Ask yourself, "What do I need this potential customer to DO?" Do I need them to call or set up an appointment? Do I want them to fill in a contact form? To download a document? To watch a video?
Content upgrades are excellent to offer several calls-to-action in your content, without displaying different opt-in forms as well. They offer a chance to get exclusive bonus content by signing up to your email list.
The safest method for extending a content upgrade is to provide a simple link, or an image within your content, which, when clicked, opens an opt-in form inviting the reader to get that upgrade.
Remarketing
Remarketing allows you to target potential customers that previously engaged with your brand with custom ads across multiple ad networks. It lets you follow your potential customers around as they browse through the web and helps you move them through each of the stages of your sales funnel.
In other words, remarketing is a powerful strategy that keeps your brand in the eyes of your potential customers, it helps you drive sales, increase registrations, and promote awareness of your brand.
Step 3. Increase Conversions in the Engagement Stage
Your goal here is to engage your leads.
Once your audience is familiar with your brand it's time to build trust. The absolute best way to engaged your audience is by allowing them to create one on one conversations with your brand.
They may have many questions or objections, and your role here is to be ready to answer them. You want to demonstrate they can communicate with your brand and you truly want to help them. Help them understand the value of your product or service and how it can benefit them.
You can engage your audience using the following methods:
Contact Forms
Contact forms are one of the most important components of your sales funnel. They allow you to effortlessly collect the right information from your potential customers to be able to follow up with them.
Form builders have pre-made layouts you can quickly deploy to start capturing data right away, from customer surveys, event feedback forms, and lead generation forms, to online order forms and payment forms.
Live Chat
Make it easy for buyers to find your product or service, and improve your checkout page by using live chat, offering free shipping, and so on.
CRM and Sales Integration
CRM (Customer Relationship Management) helps you identify where customers are in your sales funnel, it enables you to track interactions with current and future clients and helps you create custom campaigns for repeat visitors, and design special promotions for those who have opted in to receive emails from you. You can do this through cookie detection and retargeting.
Step 4. Increase Conversions in the Sales Stage
Your goal here is to make the sale.
Don't expect that prospects s will find their way to your checkout or understand how to buy your product simply because they're on your website.
If you're selling a product or service online, you have to constantly provide your buyers with clear opportunities to purchase and do it regularly. The average potential customer needs to see your offer at least seven times before they're set to purchase.
You can make the sale by implementing these strategies.
Two-Step Order Forms
A Two-Step Order Form is a powerful way to increase conversions, gather information from your potential customers and it's a great way to break up your checkout process into two steps: Lead Generation and Conversion.
Order Bumps
Perhaps, the fastest way to describe an order bump is to compare it with a phrase that makes McDonald's sell over 8 million portions of fried potatoes daily, "Would you like fries with your order?".
Both have the same underlying objective, which is to increase sales by encouraging customers to purchase more —offering a complementary product or service in addition to a basic item.
An order bump is what a client sees right before hitting the Buy button. Therefore, the usual way to use them is to embed a bump on the shopping cart page or the order form.
Upsells and Cross-sells
Similar to the Order Bumps, they're designed to attract the buyer to purchase other expensive items, packages, or add-ons during and after the sale. You can arrange this as part of the checkout process or as a follow-up email after the initial purchase.
Step 5. Increase Conversions in the Connection Stage
Your goal here is to make the connection.
You've spent a lot of energy and money finding new customers, so don't just neglect them now. The most profitable business in the world becomes profitable by getting repeat sales and referrals.
You can make a connection with customers by:
Email Marketing Automation
With Email automation, you can start building trust and educating customers about your business. Send out automated emails to subscribers with answers to the ten most commonly asked questions about your products or services.
If you weren't doing any email marketing already, this is an efficient way to get started.
Referrals
Offer discounts to anybody that would refer you to other customers.
Resells
Many consumers simply need a gentle reminder to re-purchase a product they've already used and enjoyed.
Holiday Specials
Schedule email marketing campaigns around popular holidays. Emailing a client on the anniversary of their purchase or birthday to say thank you can do a lot towards building loyalty. Giving a coupon or freebie on that anniversary can do even more.
Cross Promotions
And don't overlook cross-promotion. It can help extend your reach, connecting you to prospects on other marketing channels.
Conclusion
Now that you know more about all of the possibilities you have for converting potential customers throughout your sales funnel, remember to:
Choose a specific call to action for every stage of your sales funnel and add that call to action multiple times on your landing pages.
Leverage the power of social media, blogging, and PPC campaigns to attract potential customers to your business.
Engage your potential customers in a conversation with marketing forms, live chat, and CRM tools.
Always try to increase your revenue by adding order bumps, cross-sells, and upsells.
Stay always on the mind of your customer and follow them around the web with remarketing.
Start boosting your conversions today by turning visitors and passersby into subscribers and customers.
Have you had success with your sales funnels? Let us know what worked for you and what didn't in the comments below.
For more information, check out the following guides:
Antonio is a growth hacker and founder of Wild Bird Media. He's passionate about sharing his knowledge on SEO, Sales Funnels, Email Marketing, and much more.
follow me :