There have been so many ClickFunnels alternatives popping up. So what's the best alternative today? Here are my thoughts after 5 years of being a customer, a ClickFunnels Certified Consultant, and experimenting with dozens of alternatives.
I wrote this for people who are customers of ClickFunnels and looking for an alternative. So I haven't gone into detail on what ClickFunnels offers compared to the alternatives, instead, I'm sharing what's better or different about the alternative options.
I still love it for its ease of use, fast-paced page builder, and community. Yet, I know many people are unhappy about the monthly cost and poor customer support that has developed over the past year.
That being said, with the release of ClickFunnels 2.0 coming later this year... It may be difficult for these ClickFunnels alternatives to really compete.
Short History Of Landing Page Builders
In a market where LeadPages dominated for years, then in 2016 ClickFunnels swooped in and dominated the landing page builder market by introducing "Sales Funnels" to the masses. Instead of building page by page and connecting them with URL redirects, you could finally build step-by-step funnels. It's a simple concept overlooked by landing page builders built by technology enthusiasts. It was an obvious missing piece for a digital marketer like Russell Brunson to see. You need a sales funnel, not a landing page.
Before landing page builders existed it was a tedious and expensive process to build a sales funnel.  Not only from a design perspective but there were very few checkout systems that offered order bumps, one-click upsells, downsells, or Brunson's infamous two-step order form. The cost of building funnels was in the 1000s or 10's of thousands. Optimizing for mobile was beyond difficult or impossible with what was available. ClickFunnels made it easy, fast, and accessible for anyone to build a funnel in hours or days and not weeks or months.
Cheaper ClickFunnels Alternatives
While the technology and innovation that ClickFunnels created have likely saved entrepreneurs upwards of $100 million in development costs and time… nobody likes to pay $99 or $299 per month.
So we seek cheaper alternatives to ClickFunnels…
The challenge with running a software business that competes on price is…. funding Customer Support. And trust me, you don't want to commit to software that has poor or slow support.
We saw a wave of shopping carts that allowed the full functionality (if not better) of the ClickFunnels checkout system. The standout shopping cart alternative was ThriveCart with a lifetime deal (eg, one-time payment and no monthly fees). They gave us an embeddable shopping cart that works with any platform, affiliate management with automatic affiliate payments, and the ability to accept payments through Stripe, PayPal, and even Apple Pay.
Several WordPress alternatives to ClickFunnels are 10-15x cheaper and offer a lot more. From impressive feature-rich page builders like Elementor to integrated WordPress shopping carts like CartFlows.
Cheap landing page builders are a dime a dozen these days. But cheaper doesn't always mean better…
Better ClickFunnels Alternatives
Choosing software based on price is often a mistake… especially when it comes to something that generates revenue for your business like a sales funnel.
The biggest advantage of the ClickFunnels user interface is the speed at which you can build. It may not be noticeable to someone new to page builders however, the ability to quickly adjust padding and margins of your sections, columns, rows, and elements are key to speed building.
Furthermore, the ability to mobile-optimize your pages is crucial. The way it's handled by most page builders including ClickFunnels is by allowing you to have sections or elements that display on either desktop only, tablet, or mobile-only. This is a pain to manage updates to your funnels because you need to edit everything 3 times and often the mobile preview is not accurate to reality. Mobile optimization is a pain in the ass for my fellow OCD designers.
In a nutshell, what you should look for in a page builder is the ability to build quickly, mobile-optimize your pages, and knowledgeable customer support.
ClickFunnels Lowers Their Pricing
Recently I logged into ClickFunnels and noticed they started offering a discount to their regular $99 per month plan when you paid yearly. My immediate thought was "what's disrupting the page builder industry?" and why do they want to lock their customers into yearly plans now… after 5 years of no discounted annual plans.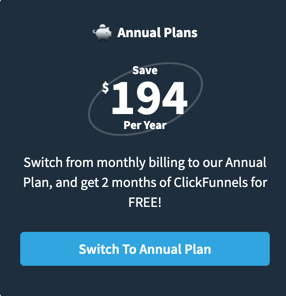 How ClickFunnels Free Trail Works
One of the reasons for the company's success is the free 14-day trial it offers. The 14-day trial is more than just a lovely "freebie" to entice buyers; it's an important aspect of their marketing.
The trial works in the following way: initially, visitors can sign up for the trial on a landing page. Then there are two emails that explain how to utilize ClickFunnels and get the most out of it (in case they didn't read the landing page instructions). Finally, when the trial period has expired, they send another email with a special offer (typically a discounted rate) to entice people to continue using the software.
ClickFunnels has lots of competition coming and in this artcile we'll cover the top competitors to ClickFunnels.
ThriveCart VS ClickFunnels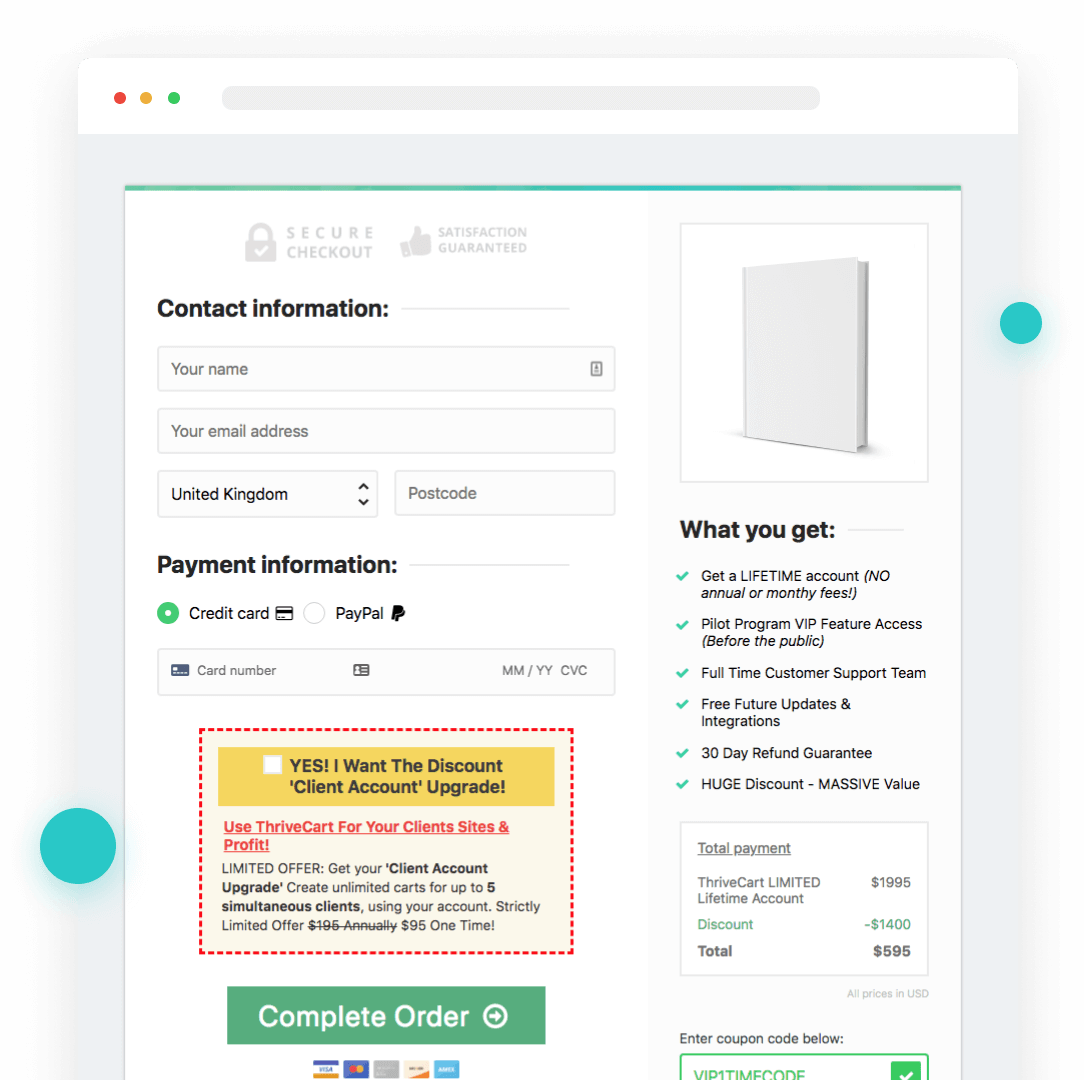 ThriveCart is a shopping cart platform for building checkout pages, upsells and downsells, and managing affiliate sales. What ThriveCart does NOT offer, is the ability to build landing pages (only fully customizable payment pages). There are several basic landing page builders including WordPress.com as a free option which you can embed ThriveCarts shopping carts into.
ThriveCart can do everything ClickFunnels can do with its checkout system including order bumps, upsells, down sells, two-step order forms, and a lot more. It's a lot easier to manage multi-product businesses with ThriveCart and it can work across multiple platforms (not restricted exclusively to ClickFunnels pages).
For me, the biggest benefit to ThriveCart over ClickFunnels is the ability to manage an affiliate system with automatic affiliate payouts. This is huge if you are working with dozens or even hundreds of affiliates – without it you will need a full-time affiliate manager just to manage the payouts!
ThriveCart has offered lifetime pricing since its launch for a one-time fee of $495 (and an optional $195 "Pro Upgrade").
Features include:
Shopping Cart (Embeddable Anywhere)
Affiliate Management Center
Joint Venture Contracts
Subscription Saver (Dunning Emails)
Automatic Sales Tax Calculation
Intelligent Business Projections
Multi-Business Management
Multi-User Access
ClickFunnels does not offer any of this on their $99/mo plan. You need their $299/mo plan to access their affiliate software – and even that doesn't have the features ThriveCart offers. Furthermore, a huge drawback to the ClickFunnels platform is if you ever leave or cancel your account you will lose all your affiliate's data and accounts…
Pros & Cons of ThriveCart
These pros and cons are in comparison to ClickFunnels.
Pros:
✔️ Embed your shopping cart anywhere (not available with ClickFunnels)
✔️ Automatic affiliate payouts (not available with ClickFunnels)
✔️ Payment notifications with PDF invoices attached (not available with ClickFunnels)
✔️ Built-in sales tax calculation (not available with ClickFunnels)
Automatically calculates the correct sales tax based on location, product type, etc.
✔️ Automated email that follows up with visitors who abandon cart (not available with ClickFunnels)
✔️ Dunning emails that notify users with expiring cards or overdue subscription payments (not available with ClickFunnels)
✔️ Payment integrations with Stripe, PayPal, Authorize.net, Apple Pay, and Google Pay
✔️ Many more integrations with third-party tools
Cons:
✔️ No landing page builder
ThriveCart is constantly updated based on trends and patterns worldwide across all industries to ensure the highest conversions possible and keep you ahead of the curve. If you have plans to get affiliates (or "Influencers") to promote your products or services this is hands down the best ClickFunnels alternative. I absolutely love the platform and it's a favorite in my funnel building toolbox and the only shopping cart I use.
Simvoly VS ClickFunnels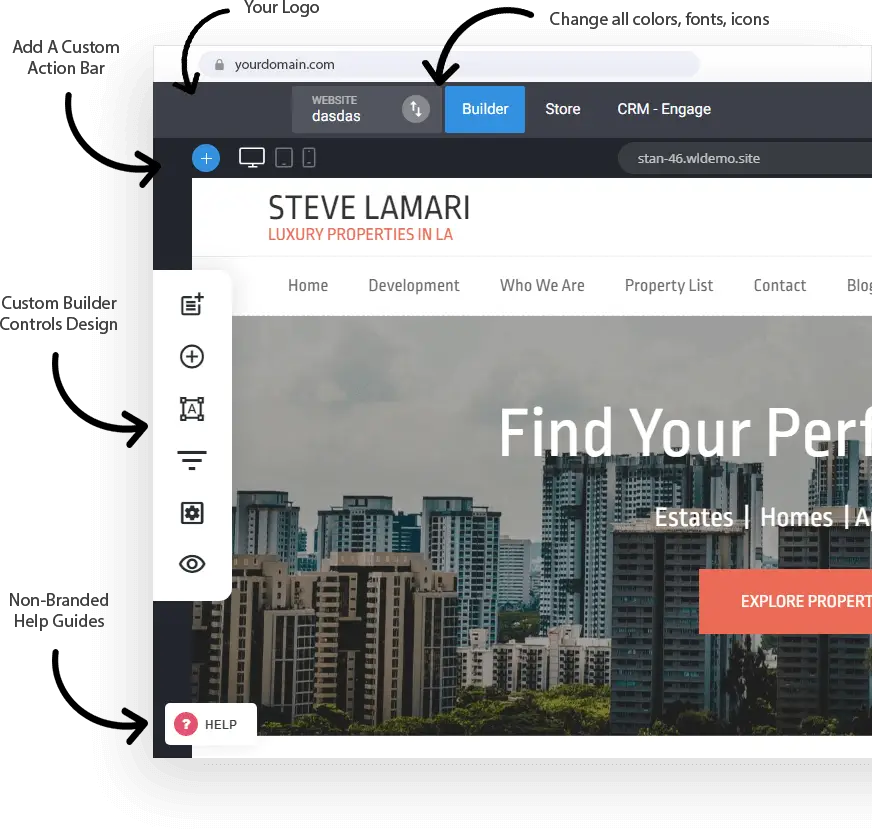 Simvoly is a drag and drop system that is extremely easy to use. It has all the features of ClickFunnels along with some additional Elements. ClickFunnels still comes out on top in terms of ease of use and usability. Their system of "Sections", "Rows", "Columns" and "Elements" is the fastest to learn and use. While Simvoly works on the same systems, it's not as clear.
The biggest benefit to using Simvoly over ClickFunnels is the ability to create websites (not just sales funnels). While many people (including myself) have stitched together websites with ClickFunnels, it's not meant for it. You will hit roadblocks on functionality and especially scale for content-heavy websites.
Websites I built with Simvoly:
Using Simvoly gives you the option to start a project by building a "Funnel" or a "Website" (Simvoly's most popular pricing plan includes 1 Website and 5 Funnels). When building a website with Simovly's CMS you can organize your pages into folders versus seeing them in a linear funnel view. The primary difference between Simvoly's funnel builder and the website builder is the ability to add a blog. In lieu of time, I won't be doing a full review of their blog functionality at this time however, I do not recommend it. Their blog functionality is bad.
A unique offering of Simvoly that agency owners love is the ability to White Label your page builder platform. This means you can build your own brand and sell plans for your own page builder.
Pros & Cons of Simvoly
These pros and cons are in comparison to ClickFunnels.
Pros:
✔️ Add a global navigation bar (made for websites)
✔️ Easily copy & paste elements between projects (similar functionality to ClickFunnels)
✔️ Mobile optimize pages (similar functionality to ClickFunnels)
✔️ Build custom members area (significantly better than ClickFunnels)
✔️ Build basic e-commerce store website (not available with ClickFunnels)
✔️ Modify content via personalization tags (not available with ClickFunnels)
Display name of the logged user, current date, or other custom parameters.
✔️ Booking calendar to let your customers schedule events with you or your team (not available with ClickFunnels)
✔️ White Label the platform – have your own branded version of the whole platform (not available with ClickFunnels)
✔️ Manage URL redirects (not available with ClickFunnels)
Cons:
✔️ Blogging platform has poor usability and limited customization
✔️ Cannot save Sections ("Blocks") as templates
✔️ No "Follow Up Funnels" functionality (eg, no built-in email/SMS marketing or affiliate system)
✔️ No 2-step order form
I have experienced bugs with the platform such as changes not saving, navigation on 404 pages not working, and elements not functioning properly… In all cases, I was able to resolve the issue with their support. Nonetheless, I've experienced similar issues with ClickFunnels.
My biggest beef with Simvoly is how they differentiate the functions of a "Funnel" and a "Website" when they are essentially the same. I wish they'd set the pricing of their plans on several "projects" instead of the type of project.
Swipe Pages VS ClickFunnels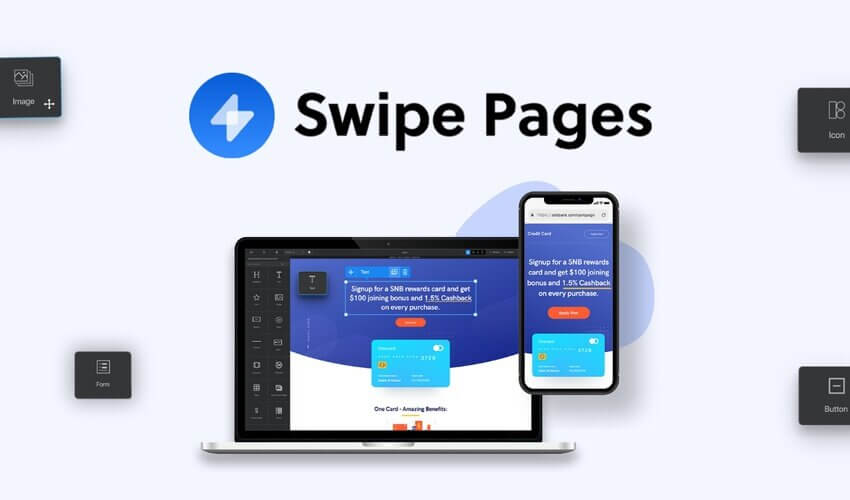 Swipe Pages is an AMP page builder that lets you create fast mobile-optimized sales funnels.
AMP stands for "Accelerated Mobile Pages", which is a framework originally developed by Google to improve speed and usability for mobile users. AMP pages compress images and strip away all the unneeded desktop code to create a mobile version of your pages that load 10x faster. When you click on a regular link on the moa bile device the average load time is 10 seconds. AMP pages load in under 1 second. Google loves this stuff and so do your visitors.
AMP pages have a lightning bolt icon next to the URL when you see them in search results on your mobile device.

We have used AMP on webfriendly.com for years and noticed a huge increase in search visibility since we implemented it.
I haven't completed building a funnel with Swipe Pages yet however, I was impressed with my initial impressions. They have invested a lot into block and section templates which can speed up the building process. The software is new but I believe it will be a top contender to a ClickFunnels alternative.
Pros & Cons of Swipe Pages
These pros and cons are in comparison to ClickFunnels.
Pros:
✔️ Mobile-first design using Google AMP (not available with ClickFunnels)
✔️ Excellent landing section and block temples (not available with ClickFunnels)
✔️ Advanced features for design customization (not available with ClickFunnels)
Cons:
✔️ Difficult to learn if you've never used a page builder before
✔️ Moving elements and adjusting padding/margins is slow (usability needs improvement)
✔️ No "Follow Up Funnels" functionality, no affiliate system, and no 2-step order forms
✔️ Few integrations (Zapier is an option)
Swipe Pages is planning to roll out a website builder and blogging platform. Soon you'll be able to build sales funnels, websites and manage your blog all in one platform. *fingers crossed*
CartFlows VS ClickFunnels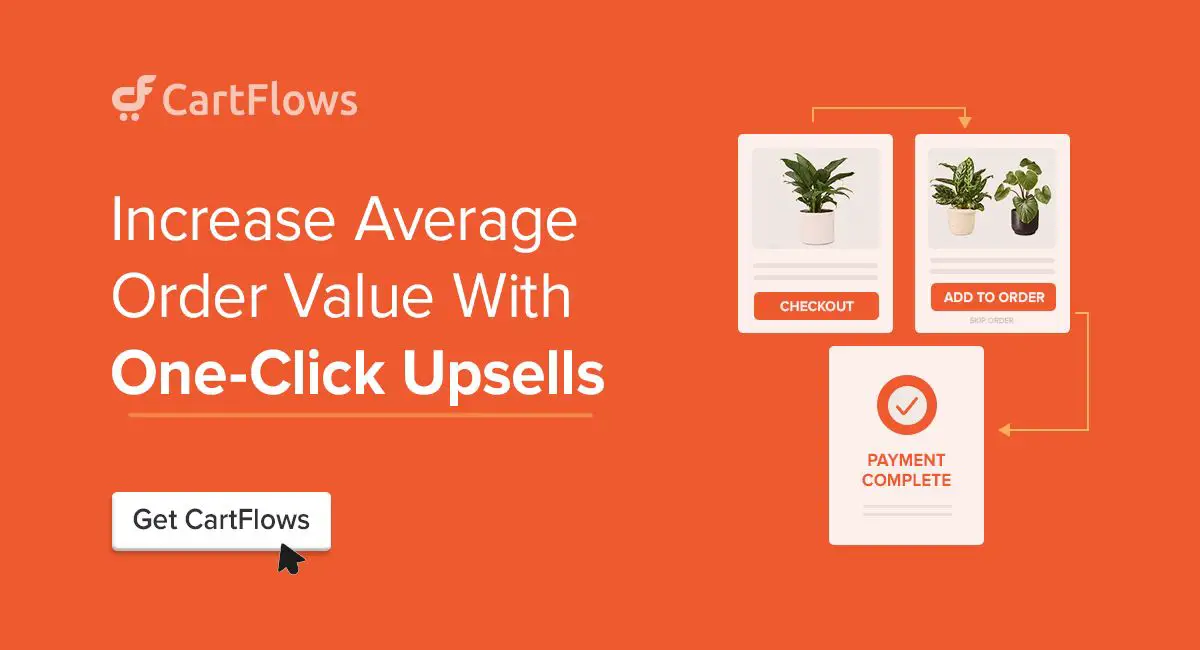 CartFlows is a powerful WordPress plugin that allows you to create custom sales funnels and optimize your checkout process. It is easy to use and integrates with the all popular WordPress page builders to create sales funnels.
You can create all sorts of funnels with this, including cart funnels for physical products, webinar funnels, simple lead funnels and more.
With CartFlows, you can do pretty much everything you can with ClickFunnels.
This include:
Optin Pages
Single Page Checkout
Order Bumps
2 Step Checkouts
One-Click Upsells & Down Sells
CartFlows is an excellent plugin for WordPress users that want to build sales funnels for their products and services.
The best USP in the case of CartFlows is that they have a lot of prebuilt funnels for different purposes. All of these are very well designed and developed. You just have to import one of the funnels to your WordPress dashboard and start editing with the page builder you selected.
Pros & Cons of CartFlows
These pros and cons are in comparison to ClickFunnels.
Pros:

✔️ Easy to navigate and deploy flows
✔️ Cartflows has a cart abandonment plugin
✔️ Seamlessly integrates with the WordPress page builders
✔️ Lots of checkout templates to choose from
✔️ Includes features like 2 step checkout, order bumps, one-click upsells and down sells
✔️ You can get a lifetime license for $999 (eg, no monthly fees)
Cons:

✔️ It's made exclusively for WordPress users… if you're familiar with WordPress then CartFlows may be challenging to setup and use
✔️ It does not have WebHooks to integrate with other apps
✔️ There's no built in affiliate management system
CartFlows is a worthy competitor of ClickFunnel and is successful to some extent in delivering similar features to ClickFunnels at a substantially lower price.
ClickFunnel is known for increasing your Average Order Value (AOV), and CartFlows successfully implements the same technology on your WordPress site.
With that being said, it also has room to grow. More integrations and an affiliate system can take its capabilities to the next level.
Conclusion
Sales funnels are an important part of any online business and cutting corners on price isn't always a good idea. If you're new to building sales funnels, your sales funnels aren't generating enough revenue to justify the monthly fee for your plan, or you're not satisfied with your current page builder – then one of these options is a great alternative for you.
For more information, check out the following guides:
A digital marketing enthusiast who is passionate about publishing, startups and the creator economy. Matt is the CEO of Web Friendly and helps write, recruit and improve content across the website.
follow me :